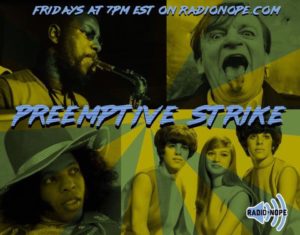 Listen to Tree Voigt, he speaks truth!!!
Ooooh buddy, have we got a Friday night for you on Radio NOPE! First off at 7pm EST is my show Preemptive Strike! Tonight's show is all soul/funk/r&b and includes a callback to the soul episode Ryan Collison did for me a couple years ago. Special!
Then at 8 it's Live from the Barrage with in-studio guest Matt Sweeney! Yes, THAT Matt Sweeney. His guitar has never been out of tune! He lives in the Physical Graffiti building!
Finally, at 1am (10 Pac) it's The TopDollar Hour w/ Tunacan Jones! He plays like a million songs on his show! Also, check out this nifty logo Brian Musikoff made for me! I'm tagging everybody!