Cold Storage
From a living room in the Hermosa neighborhood of Chicago, join Stephen Sowley for three hours of bizarre floor enforcement.
Tune in, Turn on, Drop dead! It's an electric psychedelic beach party, baby, playing the best surf rock, party rock, garage rock, and psych rock, covering the late 50s to early 70s and anything else that fits, from womp bomp a loo bop to rama lama fa fa fa and beyond!
Fugazi Fridays
This is where we can talk about how great this show is and so on and so forth. Blah blah blah. I can see your lips move but all I'm hearing is blah blah blah.
Hit it and Split
Hit it and Split! An hour of great music from DJ Deb, she plays what she wants and then she's off. Music from here, there and around the world. From this century, the last and even the next
The Hot Box
Stoner, doom, heavy psych, retro fuzz, post-metal, sludge. Is it heavy? It's on The Hot Box.
Jackpot Plus
Feel free to email or whatever – I suppose I will post playlists eventually, especially if people ask for them…maybe once
.
Jailbreak
An hour of the best classic rock station that never was
Killed By Depth
Punk, rock, the best of both. Intense!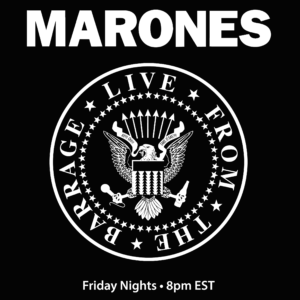 http://www.radionope.com/podcasts/barrage/
https://www.livefromthebarrage.nyc/
Nestled behind a humble single-family house on a quiet street in a suburban Queens neighborhood sits an unsuspecting garage-turned-bar-turned- studio that plays home to the funniest radio show on the internet.
Founded in 2012, Live From The Barrage broadcasts live each week drawing regular listeners from around the world. Since then the show has aired over 100 episodes and has hosted various celebrity call-in guests such as Billy Bragg, Steve Albini, Mike Watt, Tom Scharpling, as well as members of The Ramones, Archers of Loaf & many more.
Your host, John Houlihan leads a rotating, 5-man cast of colorful radio personalities to a create hilariously dynamic conversation covering topics ranging from music, sports, national events & more. Episodes are rounded out with a nightly news segment and an interactive trivia game that encourages chatbox listeners to play along at home.
Mandatory Melvins
This is where we can talk about how great this show is and so on and so forth. Blah blah blah. I can see your lips move but all I'm hearing is blah blah blah.
Join host Brian Musikoff for an hour of music (mostly Rock of the independent persuasion) finely selected in accordance with the weekly BIG IDEAR.
Musicians and those musically adjacent talking about bands and artists who have been influential on their lives.
Preemptive Strike
This page was published before the description was given. Preemptively, you might say.
Conan Neutrons Protonic Reversal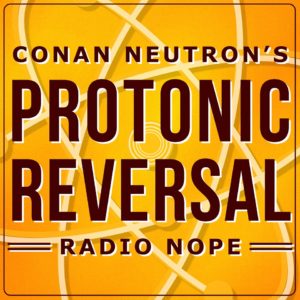 Protonic Reversal, a rock radio show/podcast that features insightful discussions with awesome musicians and artists who may not be household names, but are very important to certain people. Why do you do what you do? est. April 2014
Protonic Reversal is a live radio discussion show (Radio NOPE), that is podcasted, a conversation of amusing anecdotes, rocker ennui, why people do what they do & other assorted hijinx. It's like "Inside the rocker's studio" or something…
Live Thursday 8PM Eastern/7PM Central/6 Mountain/5 Pacific.
archives at: https://www.protonicreversal.com
http://www.radionope.com
Hosted by rock 'n roll lifer: Mr. Conan Neutron, esq. of Conan Neutron & the Secret Friends, Household Gods, Victory and Associates, Mount Vicious and Replicator, however… you don't know to know or care about any of that to enjoy the show.
Sabbath Sundays
Let us give praise! To Ozzy, Tony, Geezer and Bill.
Songs From Under the Floorboards
The Spacerock Continuum
Not all spacerock, and not all the time. A compendium of artful noise brought to you monthly by your favorite aficionado of the spacier side of rock music, Beedub.
Step to the Music is your Radio NOPE dance party, giving you an hour a week of beats, grooves, and random left turns. Offensively eclectic and hip-sway driven, SttM will play Whatever It Takes to get asses in motion: disco, techno, house, hip-hop, FWD-style dubstep, new wave, no-wave, R&B, indie dance-rock, ska, dub, and anything else thrown into a blender and thrown at your ears in a completely unpredictable continuous mix.
SttM also occasionally indulges in guest-DJ spots and two-hour specials, including: Randall Murphy's House Selection, The 2015 Halloween Extravaghoulza, The Episode VII Intergalactic Disco Warm-Up Mix, The 2016 Valentime Luvv Jamz Bath-Salts for your Libido Mix, and whatever comes next…
Take Down Notice
A weekly hour-long show of songs and commentary. A man on the street; on the beat. These are some of my favorite songs and I want to talk with you about them. Cheers!
The TopDollar Hour w/ Tunacan Jones
A delightful mix of power pop, garage rock, hillbilly, no wave, noise rock, twang and plenty of disinformation that will soothe the left elbow.
Wipers / Wire
It's the Wipers! It's Wire! Stop, you're both right… depending on which week you listen